Filter by Category
Nature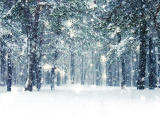 Celebrate The Winter Solstice!
with Judy Geck

Dec 20, 2022 at 6:30 pm
When nature is experienced fully with all our senses engaged, we develop a kind of rhythm with the natural world that leads to a sense of well-being. Join naturalist Judy Geck for a two-hour experience that will help bring you into the present moment, de-stress and relax as you enjoy the serenity of Winter. Check the weather forecast and dress appropriately.  
Date: Tuesday, December 20, 2022
Time: 6:30-8:30 p.m.
For adults