Filter by Category
Ages 13+
Registration Unavailable
ArtStart Joins the Art Shanty Projects On-Ice!

Feb 1, 2023 at 6:30 pm
The Art Shanty Projects* is a perfect opportunity for families and individuals to create one-of-a kind structures, imaginative contraptions or wearable art cars to celebrate with other creatives in the out-of-doors on a winter weekend day at Bde Unma (Lake Harriet) in Minneapolis! 
ArtStart is offering low-cost creative art materials at a 10% discount and a free consultation provided by ArtStart artists for individuals or families who want to showcase their imaginative art works at the Art Shanty Projects. To be eligible to receive the 10% materials discount and free class:
First register by January 26th. 
Then shop and pick out your materials on any of the following dates at ArtStart's ArtScraps: January 20-21 or January 27-28 in preparation for the February 1 class.
Then attend the free February 1 class at 6:30 pm on Zoom for advice and suggestions.
Finally, join Art Shanty revelers on the weekend that works for you-February 4-5 or February 11-12 and showcase your individual or family creation and participate in the Wearable Art and Contraptions Parade at 12:30 pm. each day. 
For questions, contact carol@artstart.org.
*The Art Shanty Projects take place on Bde Unma (Lake Harriet, Minneapolis, Minnesota) from January 21 through February 12, 2023. Public hours are 10am – 4pm every Saturday and Sunday. The project welcomes grown adults and kids of all ages to play / learn / grow / laugh / smile / sing / groove / gather with us in the Art Shanty village.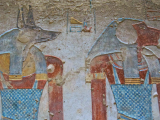 Camp Create: Passport to Egypt and Turkey through the Arts

Jun 27, 2023 at 9 am

, runs for 1 week
Camp Create for ages 13+ features the fascinating culture of ancient Egypt and Ottoman Turkey through the arts. Working side-by-side with professional artists, participants see the world with new eyes and appreciate how connected all people are no matter what period of time they live in or where they live. Youth create art works inspired by ancient Egypt and Turkish traditions. They use a variety of art materials and develop new art skills and techniques. Youth participate in 3 different classes daily over 4 days. 
Camp Create participants may apply for an internship to work with artists who are teaching in the younger children's 2-week camp, Passport to Egypt and Turkey. Interns receive a small stipend. Learn more.
5% discount with coupon code EARLYBIRD through Feb. 4.
Payment plan available: $200 deposit plus 4 payments of $37.50, paid every four weeks.